Goooooooood Mooorrrrnnniiinnggg!
Did you have a great weekend? I ran 11 miles with the sunrise, saw a new venue, went to universal, and turned really lazy, so I'd say my weekend wasn't half bad. 😉
I actually prefers weekend like that – one crazy busy adventure day followed by one super lazy enjoy-the-moment day – it's a great mix of what the weekend has to offer.:)
I was up with my alarm this morning and at the gym at 6:30am for New Rules of Lifting for Women 6B. Somehow I skipped a workout a couple of weeks ago and now my As and Bs are backwards for NROLFW. No big deal, just a little confusing when I went to pick up 6A and realized I just did that one on Thursday.
The gym was quiet this morning. I did a 25 minute warm up walk on the treadmill while reading a couple of chapters from 'A Practical Wedding.' I started reading the APW blog right after I got engaged and purchased the book last week. I'm a sucker for blogs that have books out – it's like a condensed version of their many years of blog entries all rolled into one organized portable package. The book is pretty good too. I love the author's voice and her do-what-you-want attitude.
Plus, how could you not love the book's ads?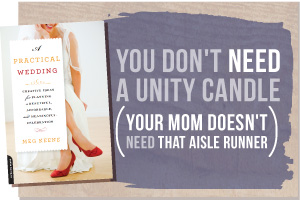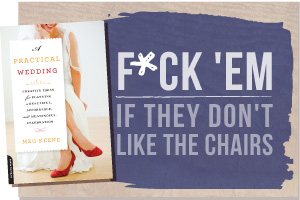 hahaha
I think the author and I would be good friends. Plus, her name is Meg – how could someone named Meg not be cool?
So yeah. I read, walked, and made my way to the weights to pump (iron, not breast milk.). I'm still enjoying the stage 6 workouts. This stage probably has the most variety of all the stages, so I'm consistently changing up numbers of sets and reps with each workout – I like that.
Breakfast resembled something very patriotic when I returned.
1/2 cup Kashi Cinnamon Go Lean Crisp
1/2 cup Shredded Wheat
Plain Chobani
Blueberries
Strawberries
Walnuts
And I pledge allegiance to the…
Time to get this week started.
Happy Monday everyone!