Boo!
What? Not scared? Pshh…I'm proud of my monogrammed creation. 🙂
My goal for this year's pumpkin was to to break free of my traditionalist ways and carve something out of the ordinary. Looking back at what I've done in the past, I seemed to be carving a lot of the same.
Exhibit A: 2005
Exhibit B: 2006
See a pattern?
Eyes. Nose. Mouth. Pumpkin.
This year was going to be different. 🙂
I was inspired by Young House Love's pumpkin themed post from earlier in the week. They're so creative with their pumpkins, I wanted to be just like them! (only in a way less creative, less artistic, I'm-making-this-shit-up-as-I-go sort of way).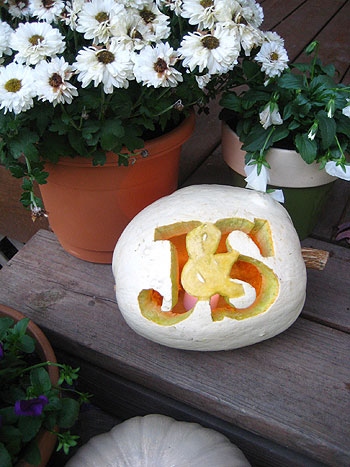 (source)
Pretty, right?
So in…ummm… stealing their creativity, I decided to try the initial route on my own pumpkin this year.
DM(squared) = Derek + Meghann + Maddie 🙂
I sketched out a few versions until I got one that I liked, then I got to work with the orange guy.
I taped my stencil on the pumpkin
And began to carve.
Derek voiced his concerns over the whole tape-the-stencil-to-the-pumpkin method, but it was getting the job done fine by me.
The whole process was a lot easier than I was expecting. I would rank carving the stenciled letters about the same difficulty as carving eyes, a nose and a mouth. Granted the pattern I chose wasn't exactly rocket science, but the end result was a lot cooler than the good ole pumpkin face.
Success!!!!
I'll count the ability to make out the DM2 as a success. 😉
Now I'm even more inspired to try something new and different with my pumpkin next year! Maybe, I'll sketch a Maddie face – you know – because I'm totally at the skill level now. Ha!
Are you creative with your pumpkin or are you more of pumpkin face traditionalist? 😉
Of course no pumpkin carving experience would be complete without a movie (Green Hornet – the closest thing we could get to a Halloween movie in the era of DVD kiosks and our current snail's pace internet speed), comfort food, and a beer.
Yum.
I had roasted some cauliflower and parsnip for a side dish, but found the combo a bit boring on its own. Some ricotta cheese, shredded cheddar cheese, and a little oregano fix it right up. 🙂
I preferred this dish the the bbq chicken I made to pair with it. This could have easily been the whole meal and I would have been happy. 🙂
Tommy Knocker's Pumpkin Beer? Eh. Wasn't a fan.
It tasted a little water down. Weak!
Dessert was a slice of Pumpkin Apple Pecan Bread with a scoop of coffee fudge ice cream.
The pumpkin seeds are currently drying – let's hope I don't burn them this time!
5k in the morning!
Good Night