Happy Cinco de Mayo!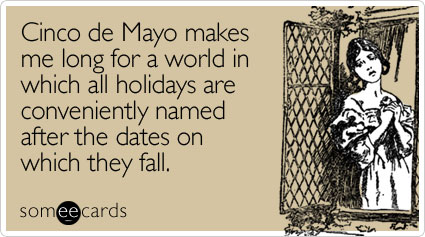 Ironically I didn't realize it was Cinco de Mayo until after lunch time.
My old college self would be so ashamed of that fact.
No comment. 😉
Actually that photo is from Carlos 'n' Charlie's in Cozumel from 2006.
Here's another one.
And another from the same album.
And now I want to go on another cruise.
Moving along… what was my point again?… oh yeah – Cinco de Mayo.
In the spirit of Cinco De Mayo we had a Mexican inspired dinner because what's Cinco de Mayo without tacos?
This was a tempeh based taco. I crumbled the the tempeh like ground beef then cooked it with a homemade taco seasoning consisting of chili powder, cumin, and adobo spices. 🙂
Also on the taco:
Pureed Pinto Beans
Spinach
Cheese
Tomato
Salsa
Olives
Served with roasted okra.
We met friends for drinks at Chilis after dinner.
My heart was set on a beer, but when I read the options none of them jumped out at me. Instead of drinking simply because everyone else was drinking I decided to go with what I really wanted – water.
I drank 3 glasses and I could probably still drink more. I must be dehydrated.
When we got back home a couple of hours later I had an Attune Chocolate Bar.
It's midnight and the alarm is set for 6:00am. It's going to be a long day tomorrow.
Good Night!