Happy St. Patrick's Day!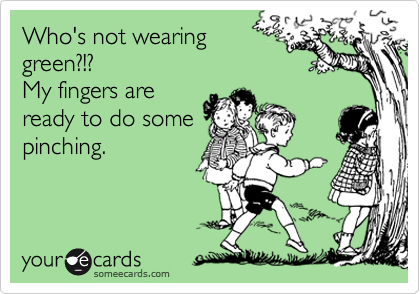 Did anyone else ever use the "I have green eyes" excuse to avoid getting pinched when they were younger? It was the one day of the year when green eyes came in handy.
Don't worry, I didn't forget to wear green today. I wore my green top loud and proud in the office. I also carried Lucky Charms around, just in case.
Eating a green snack is as important as wearing green, no?
I've been feeling very blah lately so I'm working on changing up my fitness routine. I'm going to start giving myself three weekly fitness goals to conquer. I'm a goal-oriented person so I think having something in writing will help keep me accountable. This will also give me an opportunity to check in a little more on here.
Just to recap, I've been cutting back on running and "intense" exercise since we started trying-to-conceive again last October. I haven't run more than 4 miles since the Walt Disney World Half Marathon in January, and while I love the non-stress feel of not having a plan when it comes to running, I'm honestly getting a little bored. I want to mix it up a little more and challenge myself in new ways. This could be committing myself back to strength training, hoping back on the bike trainer, or getting back into yoga (just to name a few examples).
What I really, really want to do is re-join a gym. There's a great one right down the street from me, I just need to make it a point to go in and sign the paperwork. I've had some great workouts with my kettlebell lately, but I miss having access to the full range of a weight room. I'd love to get a plan (maybe redoing NROLFW? or trying the men's version?) and stick to that.
I also want to recommit to yoga. If I can commit to at least one class a week, then I'd call that a win.
I miss swimming. There's three words I never thought I'd say! But it's true. I miss it. Luckily the gym I want to join has a pool. (yes, I know my new house has a pool, but there's a big difference between a 25 yd lap pool and a 15 yd recreational family pool). The weather is starting to warm up and I'm itching to get a swim in.
So there's my three fitness goals for this week:
Join a gym
Take a yoga class
Swim
I didn't say the goals had to be big ones, they just have to help keep me focused. I'll check in next week with my progress and three more goals.
Who wants to join me in creating three fitness goals for the week?