Good Morning! 🙂
Coming into the office this morning was a much more pleasurable experience than yesterday. Never before has AC felt so good. 🙂
And thanks to last night's rain, my run wasn't quite has hot and sticky as it could have been if I had ran yesterday. Trust me, it was still a very hot and sticky four miles that I slowly pounded out this morning, but on a scale of 1 – 10 on hot and stickiness I would only rate it a 6.5.
And on a 1-10 scale of a cool and satisfying breakfast, I would rate this morning's cereal a 10. 🙂
The mix:
1/2 cup Quaker Oatmeal Squares (the last of the box 🙁 )
1/2 cup Kashi Cinnamon H2H
1/2 cup Cranberry Granola
Plain Yogurt
Strawberry Preserves
Strawberries
Cherries
The preserves added to the mix gave the cereal a great summer touch. It mixed with the yogurt and paired beautifully with the fresh fruit. 🙂
Say Hello to my New Best Friends…
Ironically enough right before my teeth went bad last week I received two separate packages containing just the tools I needed to help fix it.
The first was a bottle of Crest 3D White Multi-Care Whitening Rinse that Ashley had sent me a while back, but I never used for one reason or another. Once my teeth started going yellow I figured there would be no better time to give it a shot than the present. 😉
I've been swishing a capful of the mouth rinse twice a day following my normal brush and newly formed flossing routines. It taste great and leaves my mouth feeling fresher and cleaner after each rinse.  According to the bottle the rinse's 'triple-action formula removes surface stains, kills bad breath germs, and actually protects against future stains.' It also claims to contain the same whitening ingredients as the 3D White Strips.
I love all the whitening power the rinse has, but from the little research I've done on the bottle it doesn't seem to have the preventative gum care and tarter control elements that I need in the future. I will continue to use the bottle until it runs out and then research other rinses that will give my mouth all the good protecting powers that it needs! 🙂
The second was a present from the people at P&G and MS&L containing the Oral-B ProfessionalCare 1000 electric toothbrush to review.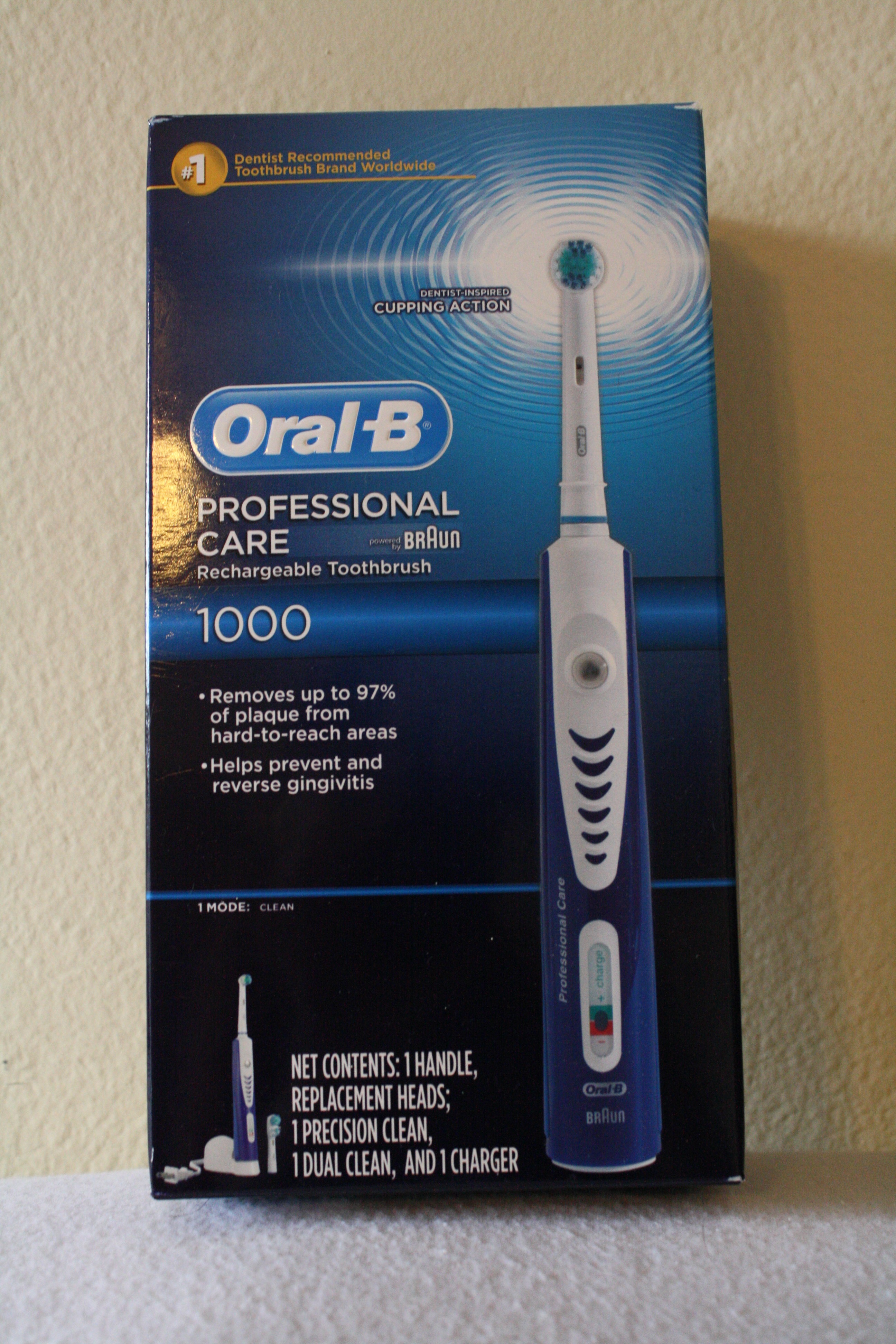 (source)
When I asked for advice on what to do about my teeth, plenty of you recommended an electric toothbrush to help fight the tarter build up. In fact, my dental hygienist had recommended one as well. Did you know that using a power toothbrush, like the Oral-B ProfessionalCare 1000, will remove more plaque than a regular manual toothbrush, prevent gingivitis and can reach deep between teeth and along the gum line for a thorough clean?
I couldn't wait to put this toothbrush to the test.
Honestly, the toothbrush was just easy. What's hard about pressing the button and going at it on your teeth? Nothing. If anything the electric toothbrush made me feel better mentally because I felt like the buzzing sound was having a better effect at removing my stains than my normal manual brushing habit would. Plus, the toothbrush is easy to charge and once it's charge it can go over a week without charging again.
With the combination of the whitening rinse, electric toothbrush, flossing, super duty baking soda enhanced toothpaste, and stopping the perio-rinse treatment I can already see a difference in the appearance of my teeth. I'm not ready to post any before and after photos yet, but they're getting there. 😉
An Oral-B Giveaway
I know I'm not the only one out there with bad teeth, so why not share the Oral-B ProfessionalCare 1000 love with someone else who truly needs it?
The great folks at P&G and MS&L are offering up one Oral-B Professional Care 1000 electric toothbrush to one lucky GraduateMeghann reader. Here's your chance to win the toothbrush to test out for yourself! 
Simply leave a comment on this post with something POSITIVE to say about your winning smile.
For instance my front tooth is slightly chipped and even though countless dentists have told me they can fix it, I simply won't let them because that chipped tooth is me. It's been a part of my smile for 20 years and I can't let them take it away. I always smile –chipped tooth and all – with pride. 🙂
You have until tomorrow morning to leave a comment. I will announce the random winner during my breakfast post.
Good luck!